Are You Searching for a Toyota Wheel Alignment in Lynchburg, VA?
Do you want to make sure that you get as many miles as possible out of your tires? Are you concerned about the handling of your vehicle? If this is the case, you need to think about getting your wheels properly aligned. We are Berglund Toyota and we can help you make sure that your Toyota's wheels are properly lined up. Take a look at our services!
An Overview of a Toyota Wheel Alignment Inspection
If you were looking for a wheel alignment near Timberlake, and you need to know what happens when you bring your vehicle to see us. First, we will check all of the angles of all four wheels. This includes the camber, caster, and toe angles. We will then use the best practices in our industry to make sure that we line your wheels up correctly. Finally, we will test drive your vehicle before we return your vehicle to you to ensure the procedure was completed properly.
Types of Wheel Alignments
Looking at the Difference Between a Two-Wheel Alignment and a Four-Wheel Alignment
There are some situations where you may need to get all four wheels aligned. If your vehicle is equipped with four-wheel-drive technology, we will ensure that all four wheels are aligned. There are other situations where you may only need to get two of your wheels aligned. If you have a front-wheel-drive vehicle, then this might be the case. We will make sure that we provide you with the proper wheel alignment for your vehicle.
---
Our Wheel Alignment Deals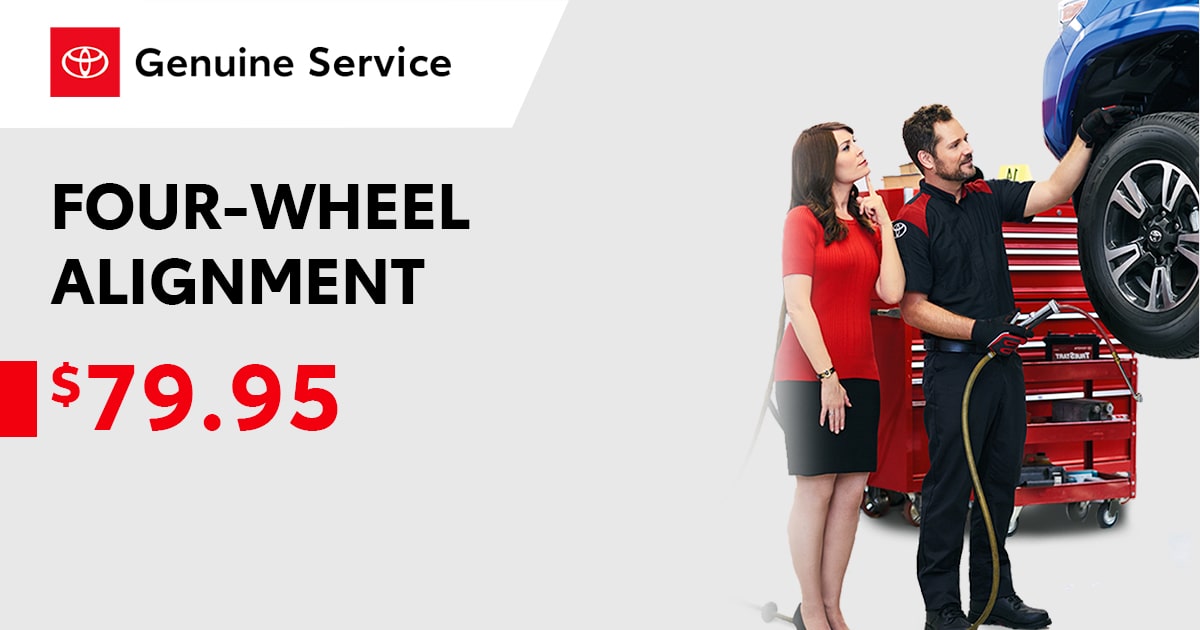 Save to Phone
  Schedule Service
$79.95
Four-wheel alignment using the newest Hunter Elite equipment to restore factory specifications and ensure even tread wear.

*Does not include any additional components that may be needed to complete alignment. Taxes and shop fees extra. Some modified vehicles may be higher.
The Importance of a Toyota Wheel Alignment: It Matters
There are several reasons why a Toyota wheel alignment is so important. First, if you want to make sure that your tires wear evenly, then you need to make sure that your wheels are properly aligned. Otherwise, you may end up having to replace two of your tires before the others. In addition, properly aligned in your wheels can also help you improve your gas mileage, reducing the amount of money that you spend on fuel. Finally, when you properly align your wheels, this will also improve the handling of your car, making it safer to drive.
Call Berglund Toyota in Lynchburg, VA for Assistance with a Toyota Wheel Alignment Today!
If you want to make sure that your wheels are properly aligned, rely on Berglund Toyota's team in Lynchburg, Virginia. We provide you with access to certified, local, and independent mechanics to understand exactly how to take care of your Toyota. Contact us today to make an appointment with a member of our team.
  Schedule Service