Learn More About Berglund Toyota
Located at 19018 Forest Road in Lynchburg, VA, Berglund Toyota is your full-service new Toyota and used car dealer that provides you with a great price and excellent customer service every time. We are home to all the newest Toyota vehicles, high-quality used vehicles, streamlined financing , lightning-fast vehicle service, premium Toyota parts and accessories , and more. We also pride ourselves in providing you with many extras while you're shopping or having your vehicle serviced!
At Berglund Toyota, our 80,000 square foot facility offers the perfect retreat to escape the outdoor elements and shop indoors in comfort. Our showroom is made up of two floors filled with up to 100 new Toyota vehicles , all sparkling-clean and ready for immediate delivery. In addition, our helpful sales staff will be on hand to answer all your questions, concerns, and needs.
You can also relax in our large service lounge and enjoy our leather couches, flat screen TVs, and complimentary coffee. You can even take a look at the Service Department  through the service bay viewing windows. 
From the moment you drive home in your new Toyota, you can expect more from Berglund Toyota. We care about how our customers are treated while visiting us, so you can expect an excellent experience at our store every single time you stop by. We look forward to seeing you during your next visit to Berglund Toyota.
Our dealership services cities and areas such as Washington D.C, Richmond, Charlottesville, Roanoke, Danville, Lynchburg, Madison Heights, Rustburg, Boons Mill, Goode, Gladys, Charlotte Court House, Halifax, Lynch Station, Alta Vista, Leesville, Buchanan, Blue Ridge Parkway, Big Island, Mechanicsville, Newport News, Waynesboro, Scottsville, Appomattox, Farmville, Keysville, Amherst, Jetersville, Bedford, Brookneal, Martinsville, Chatham, Forest, South Boston, and Rocky Mount. 
The Farrell Family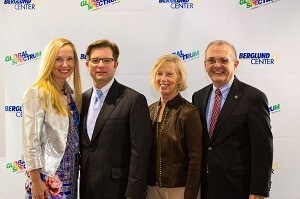 For more than 25 years, the Farrell family have led the Berglund Automotive Group. Since the Farrells took over the company in 1988, the company has been family-owned and operated. It all started when Bruce Farrell came to work for Donald Berglund in 1975. After working his way up from a mechanic to becoming a General Manager, Bruce took over the dealership group after Mr. Berglund passed away. Eventually, Bruce's son William took the lead of the company, becoming the President while his father remained CEO. The Farrell family's hard work and determination have played a major role in the Berglund Automotive Group becoming one of our largest and most successful dealerships in Virginia.
At Berglund Automotive, the focus is always on satisfying the needs of the customer. When you step on a Berglund lot, you will find a showroom full of helpful staff and great deals. With over 10 dealership across the Roanoke and Lynchburg area, you are sure to find a huge variety of vehicles, both new and used. No matter which dealership you find yourself at, you can rest easy knowing a professional salesman will help you find the perfect vehicle. And best of all, you know you will be getting our best price around.