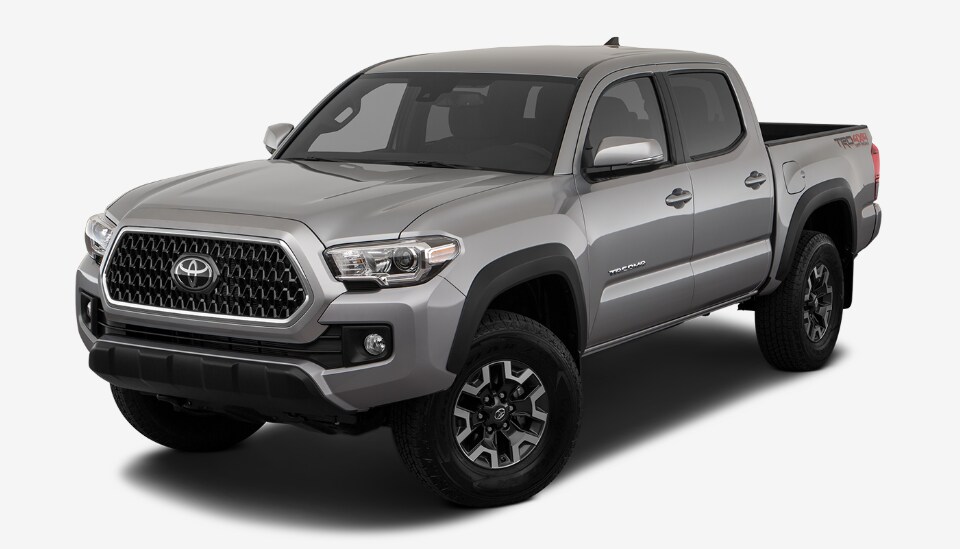 Toyota Tacoma: So Much Strength
Bold and proud: The Toyota Tacoma enters 2018 stronger than ever before. Ready to go off-road? Looking for a truck to haul some cargo? Simply searching for a reliable truck to carry your family around town? The Toyota Tacoma has a little bit of everything that drivers want!
Explore the great outdoors of Virginia in the Toyota Tacoma. Get a more personal look of the Blue Ridge Mountains by using the amazing off-road capabilities offered by the Tacoma. I iconic for its off-road credibility, the Tacoma is edgy and smart. If you're looking for a versatile truck, the Toyota Tacoma is right for you!
Ready to explore? Stop by Berglund Toyota and see us today!
The New 2018 Toyota Tacoma
The new 2018 Toyota Tacoma has a variety of trim levels. These include: the entry-level SR, SR5, TRD Sport, TRD Off-Road, Limited, and TRD Pro. Even the base trim, the SR, can be equipped with an extended cab. You can even choose between two-wheel drive or part-time four-wheel drive. The TRD Sport replaces a 4-cylinder engine, while the TRD Off-Road trim offers more visual differences which includes a chrome rear bumper and textured black fender flares.
The Limited trim offers a V6-powered crew cab and 18-inch wheels. The TRD Pro is sold only with a crew cab and comes only with four-wheel drive. The interior is spacious and the high-quality materials make the seating comfortable and sophisticated. The Tacoma also comes with a choice between two engines, two transmissions, and two drivetrains. The TRD Off-Road trim caters to the off-road experience with more wheel articulation and off-road control. TRD Off-Road and TRD Pro models add a multi-terrain select switch for various terrains including mud, sand, snow, and rocks.
Another new feature of the 2018 Toyota Tacoma is the addition of a safety package. Known as the Toyota Safety Sense, this safety package includes forward collision warning, automatic braking, lane departure alert, automatic high beams, adaptive cruise control, and more. The 2018 Toyota Tacoma is strong, both inside and out.
Read more.
A History of the Toyota Tacoma
Toyota's trucks have a worldwide reputation for quality and toughness. In 1964, the Stout was the first Toyota pickup sold in the United States. From there, the Stout earned a reputation of reliability. In 1969, the first generation Hi-Lux was introduced. The Hi-Lux had a more contemporary styling. The 1970 Hi-Lux received a new engine and again in 1972. The Hi-Lux name was changed in the United States in 1995: The Tacoma.
In 1995, the seventh generation Toyota trucks brought about the infamous Toyota Tacoma. The first-generation Tacoma featured new sheet metal, a new frame, and more powerful engines. For 2001, the Tacoma underwent restyling. The second generation of the Toyota Tacoma was larger and more powerful than before. It also offered a popular X-Runner trim. Beginning in 2016, the third generation Tacoma was given a redesigned exterior. Over the years, the Toyota Tacoma has remained a strong and dependable truck with a faithful following.
Where to Find the Toyota Tacoma that Fits Your Needs
Call, email, or visit Berglund Toyota today! If you're searching for a Toyota Tacoma, we have an amazing selection in our inventory! Our inventory includes both new and pre-owned vehicles. Don't miss out on our incredible savings! We feature a large amount of deals!
Our deals stretch all of our inventory - new and used vehicles! We offer new vehicle specials and used vehicle specials! These specials are for a limited time only! Don't wait! These specials that you see listed on our site might be here today, but gone tomorrow! You don't want to miss your chance to own your dream vehicle at an amazing price!
What other deals do we have? We have an amazing service center and we offer service and parts specials! Even better news? Berglund is proud to announce our Berglund Used Bargains! Take advantage of these deals today!
We have outstanding customer service and our friendly staff is ready to answer any questions you may have. At Berglund Toyota, we offer dependable and professional service for our customers! Residents in Lynchburg, Roanoke, and Richmond can all agree: Berglund Toyota is here to meet your needs! Come see us today! We are conveniently located at 3000 Wards Road Lynchburg, VA 24502.